Ipi Tombe's sire, Manshood (pronounced man-shood), whose name means "sought after, aspired, or persued," was the first foal from the exceptional turf mare Indian Skimmer. He was sired by the legendary Mr. Prospector, and naturally, his owner and breeder Sheikh Mohammed had high hopes for him. Unfortunately, while training toward the French 2000 Guineas with Andrew Fabre in France, Manshood suffered a career ending tendon injury and was sold to stud duties in Zimbabwe. He covered his first mares as a three-year old there in 1994, but because of the growing political turmoil in that country, Manshood's crops were usually quite small, often less than 30 foals per year. Nonetheless, he produced a surprising number of stakes winners and placers, including Arabesque Delight, winner of the 2003 Republic Cup (SAF-G2), Cool Prospect, 3rd in the 2004 Merchants Stakes (SAF-G1), She Dog Dances (1998 filly, G3 winner), Full Eclipse (1995 colt), and Sacred Sister (1996 filly).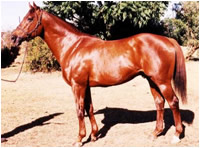 Due to the good performance of his first crops, Manshood, who had previously not been allowed into South Africa by SAF racing authorities, was transferred to Gary Player's eponymously named stud farm in Colesberg, South Africa, one of the leading farms in that country, in 2002. The move has suited Manshood well, and he is a leading sire in South Africa.
Manshood's own sire really needs no introduction. Mr. Prospector was one of the most influential American sires, leading the general sires list and juvenile sires list on several occasions. His progeny could sprint or stay, and many of his sons have proved to be top sires in their own right, such as Fappiano, Seeking the Gold, Gulch, Gone West, Woodman, Miswaki, and Fusaichi Pegasus.
As mentioned above, Manshood is the first of 7 offspring by the champion mare Indian Skimmer (1984, Storm Bird x Nobiliare, by Noble Vaguely), a G1 winner in France and England, named Champion Older Horse in 1988 (England and Ireland) and in 1989 (England). Among her classic triumphs were the Champion Stakes (GB-G1), defeating the best males of the time, the Prix de Diane (Fr-G1) in which she beat Miesque by 4 lengths, Musidora Stakes (GB-G3), the Prix St. Alary (Fr-G1), the Irish Champion Stakes (Ire-G1), and the Prix d'Ispahan (Fr-G1). She also ran third in the Breeders Cup Turf (G1). Altogether, Indian Skimmer won 10 races in 16 starts, and earned $1,469,299. Unfortunately, none of Indian Skimmer's offspring ever raced.
Her sire Storm Bird was a champion 2 year-old in Europe in 1980, and is probably best known as the sire of Storm Cat. Nobiliare (1976, Noble Vaguely x Gray Mirage, by Bold Bidder), Indian Skimmer's dam, like Manshood, was also unraced. Nevertheless, she passed on to her offspring the greatness of her sire, Vaguely Noble (1965, Vienna x Lassie Nobleman, by Nearco), Horse of the Year in Europe and winner of the Prix de l'Arc de Triumphe (Fr-G1). As the maternal grandsire of at least 162 graded stakes winners, he has passed on his class and stamina the world over.
Gray Mirage (1969, Bold Bidder x Home By Dark, by Hill Prince), the third dam of Manshood, earned $61,248 in a career that included a third in the Santa Barbara Handicap (G1). She is the half-sister of Filly Triple Crown winner and 1969 Champion 3 year-old filly Dark Mirage (1965, by Persian Road II), as well as of Dusky Evening (1967, by Tim Tam), dam of the multiple graded stakes winner Javamine (1973, by Nijinsky II), in addition to granddam of Java Gold (1984, Key To The Mint x Javamine), winner of the Travers Stakes (G1), and of the Champion Irish Sprinter Bluebird (1984, by Storm Bird x Ivory Dawn, Sir Ivor).
This is the same family as graded stakes winning half-brothers Timely Writer (1979, Writer Staff x Timely Roman, by Beautiful Sette) and Timely Assertion (84, by Assert), as well as Touch of the Blues ([FR] 1997, Cadeaux Generoux x Silabteni, by Nureyev), Spicy Story (1981, Blushing Groom x Javamine), Country Pine (1980, His Majesty x Mountain Sunshine, by Noble Vaguely), Courvoisier (1998, Hennessy x Arctic Scene, by Arctic Tern), Citichy ([Aust] 1996, Citidancer x Cheyenne Rose, by Commanche Run), in addition to half-sisters Missy's Mirage (1988, Stop The Music x First Mirage, by Riva Ridge) and Classy Mirage (1990, by Storm Bird).