Ipi's retirement was announced November 22, 2003, shortly after the great mare had returned to light training following a season-ending injury in July. According to a Thoroughbred Times article, "trainer Elliott Walden said a bone scan performed on Ipi Tombe on Tuesday detected some inflammation of the cannon bone. 'She was showing some heat in her ankles, all four ankles,' Walden said. 'She was moving pretty well, but we wanted to do the bone scan before we went to Florida and Dr. [Larry] Bramlage recommended giving her 30 days. So at that point, if she wasn't going to make Dubai, [the owners] decided to retire her.'"
Barry Irwin, president of Team Valor, had this to say: "Bottom line is she had another setback, and it would have taken a little while for her to get over it and we would have blown the Dubai race. Rather than just wait until the summertime to run her, we have to treat her as an investment and it just makes more sense to go ahead and breed her next year."
Upon hearing of Ipi's retirement, former trainer Mike De Kock said, "We will go to our graves with great memories of her. She was the Horse Chestnut of fillies, and we unquestionably had the best of her. She left us on a high and that's the way we'll remember her."
Ipi retired with an impressive record of 12 wins and 2 seconds from 14 starts and earnings of 1,529,799.
Initially, Ipi's first mate was announced as Storm Cat, but the plan soon changed, and she was sent to Ireland at the end of 2003 to be bred to top European sire Sadler's Wells. She was bred for the first time on Feb. 26, 2004, but did not conceive. She was bred again on March 20th and was happily confirmed in foal. She stayed on at Coolmore through the summer, and in early November, it was confirmed that she was carrying a colt.
On Tuesday, November 30th, Ipi went on the block at Tattersalls (Park Paddocks, Right Yard, Box 662). She sold for £850,000 (or $1,659,514 USD). She was purchased by James Delahooke for unnamed American buyers who intended to let her foal in England, after which she will be bred to
Pivotal
, the sire of top turf horses Golden Apples and Megahertz. Rumor had it that Ipi would then potentially return to
Denali Stud
in Paris, Kentucky. Needless to say, having missed seeing Ipi while she was in the USA in 2003, I was extremely excited by that news. While in foal, Ipi was boarded at Highclere Stud in Newbury, England.
On the night of Friday, February 25, 2005, Ipi Tombe delivered her first foal, a colt by Sadler's Wells. John Warren, manager of Highclere Stud, had this to say in a Thoroughbred Times news release: "She's a good mother. He's doing fine and is very typical of his sire. You'd have to be pleased. It's a great first effort." The article also announced Ipi's new owners, Richard Santulli and Barry Weisbord, who planned to keep her at Highclere until she was safely in foal to Pivotal. At the time, there was some talk of returning her to the USA after she foaled, but no concrete plans were made.
Ipi was bred to Pivotal in April 2005 and remained at Highclere for the rest of the year. On May 1, 2006, she produced a chestnut filly (Pin Turn) from that union.
She was then bred to Montjeu, heir apparent to Sadler's Wells, late in the season, but unfortunately she did not conceive.
On October 4, 2006, Ipi's yearling colt by Sadler's Wells was slated to sell at Tattersalls. Just days before the sale, however, he was withdrawn by his owners who decided to keep him to race themselves instead.
In January 2007, Ipi Tombe's colt by Sadler's Wells was officially named Monastic Springs. Both Ipi and her colt were returned to the USA by that time---Ipi joined the broodmare band at Denali Stud and Monastic Springs joined trainer Alan Goldberg in New Jersey at Colts Neck Stables.
On March 18, 2007, Ipi Tombe was bred to Coolmore stallion Giant's Causeway, and though she conceived (a filly), the pregnancy unfortunately did not go to term.
On July 19, 2007, while on vacation in Lexington, KY, I finally got to see my girl Ipi for the first time. She looked sensational---her coat had been sun-bleached to a glimmering golden-bay and she was sleek and beautiful as ever. I fed her a bunch of carrots and got to pet her and spoil her for about an hour. She is a very good natured mare, one of the nicest I've ever had the pleasure to meet. She is obviously well-loved by the people at Denali. Given her obscure beginnings in Zimbabwe, it's really remarkable that she now resides in the heart of American horse country.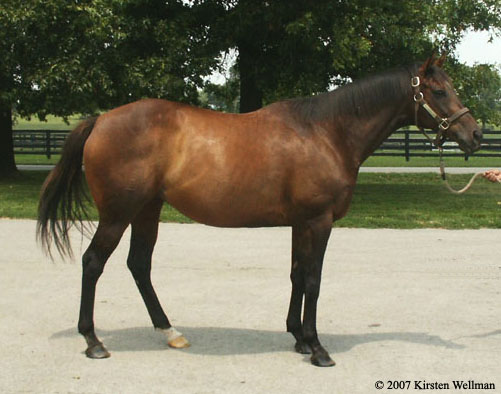 Click
here
for more pix of my 2007 visit with Ipi Tombe.
On February 9, 2009, Ipi produced a healthy dark bay colt by Giant's Causeway. I had the great pleasure of seeing him and Ipi in July 2009. Both of them looked superb and were happy to be petted and photographed.
On March 4, 2010, Ipi produced a stunning bay filly by Medaglia d'Oro. She is in foal to MDO again for 2011 and is believed to be carrying a colt who is due in May.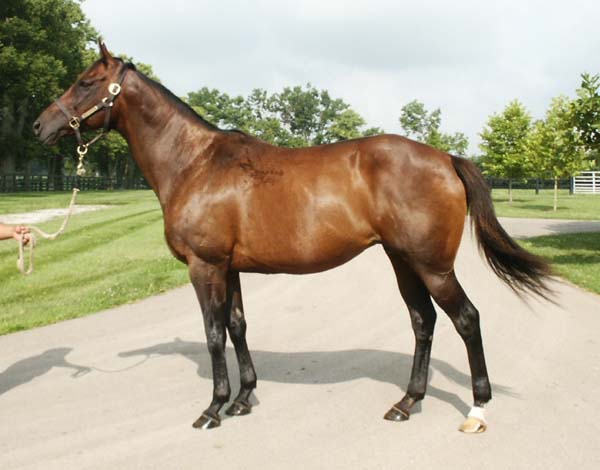 Ipi looking sensational as always on July 16, 2009. She looks like she's posing for a Richard Stone Reeves painting.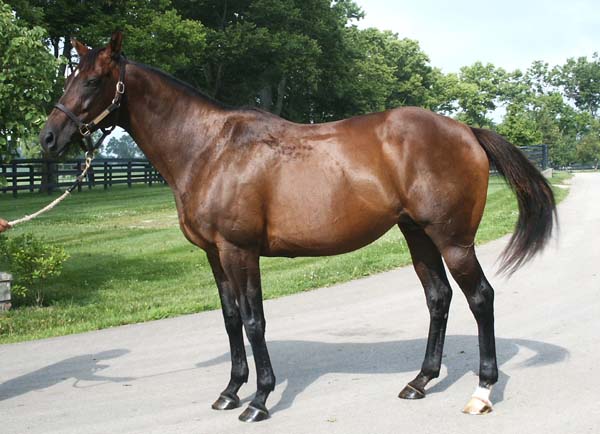 Another shot from my morning with Ipi. Such a photogenic mare. :-)