Ipi Tombe
arrived in the United States on April 8, 2003, and was shipped to Churchill Downs to the barn of trainer Elliott Walden. Her first start in the USA was the
G3 Locust Grove Handicap
(f&m, 3&up, 9f turf) on June 28, 2003, at Churchill. She was the favorite and highweight at 123 pounds, giving between 7 and 11 pounds to her four rivals.
Ipi literally walked out of the gate and lost some ground to her rivals, but jockey Pat Day urged her back into contention, and she raced comfortably in third. Ipi gained ground down the backstretch, and coming out of the turn, Day sent her in between the two leaders to take command of the race. She maintained her lead through the length of the stretch, running easily and well-within herself. Day never once had to show her the whip, and as the notes from the race chart said, she finished under her own power, winning by half a length. It was clear from watching the finish that Ipi could easily have opened up daylight on her rivals, but her connections had decided it was best to keep her winning margin small so that her future imposts wouldn't be staggering. Day rode her to a perfect finish.
After the race, Day had this to say: "I was really looking forward to today to ride her. The only anxious moment was when she first jumped away from the gate behind the field, and then got a little bit rank on me. I was concerned that she would put too much into it, and run up there and chase the leaders and waste herself. I got to the leader at the eighth pole with minimal encouragement and went right past them. Knowing the gears that this filly has, I looked around and nobody else was coming. I dropped my hands on her and she kind of backed up to them coming to the wire. There was nobody else coming so there was no need to continue to ask her to kick on. She had done what was necessary to get the job done. There are plenty of dances to dance. We want to conserve some energy for later on."
Ipi's connections intended for her to run in the Diana Handicap at Saratoga on July 26th, but she rapped her left foreleg in a workout and missed an important prepratory work. She returned to training soon afterward to prepare for the Beverly D. on Arlington Million Day, but unfortunately, her injury continued to bother her, and she was declared out for the rest of the season, sad news for this Chicago-based fan. Team Valor president Barry Irwin announced that Ipi would be pointed toward races at the winter 2004 Gulfstream meet in preparation for a repeat victory in the Dubai Duty Free in March 2004, but Ipi's injury did not heal quickly enough, and her retirement was announced on November 22, 2003.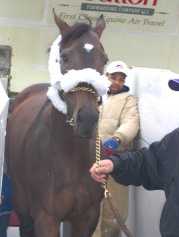 Ipi arriving in the USA on April 8, 2003
(Photo by Kathleen Irwin)